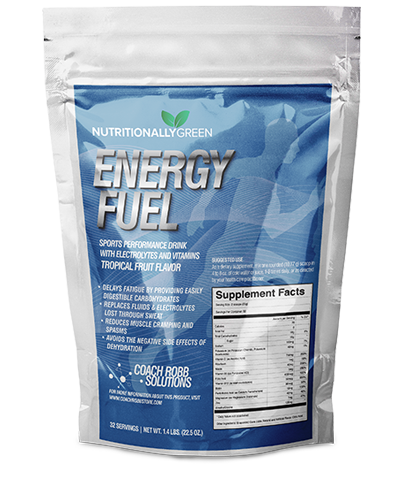 Nutritionally Green's Energy Fuel is an advanced re-hydrating/electrolyte formula developed for use during high intensity training and competing.
Delays fatigue by providing easily digestible carbohydrates
Replaces fluids & electrolytes lost through sweat
Reduces muscle cramping and spasms
Avoids the negative side effects of dehydration
Nutritionally Green Supplements by Coach Robb™ Means Top Quality and Maximum Absorption For You!
Like all my supplements, Energy Fuel is made of only the highest quality to ensure that your body can absorb the ingredients for maximum effectiveness.  Your body's ability to absorb what you consume is commonly referred to as bio-availability (a fancy way of saying your body is actually absorbing what it is consuming verses passing it as waste).
Higher Quality and Absorption Means Exceptional Value To Your Performance
With the ingredients being of such high quality, your body will absorb a higher percentage of the Energy Fuel which will provide you with all of the associated benefits and less being lost in your urine.  Products that are not of high quality are not absorbed by the body and pass through your system as waste.
Remember, when it comes to nutrition what you absorb is as important as what you eat!